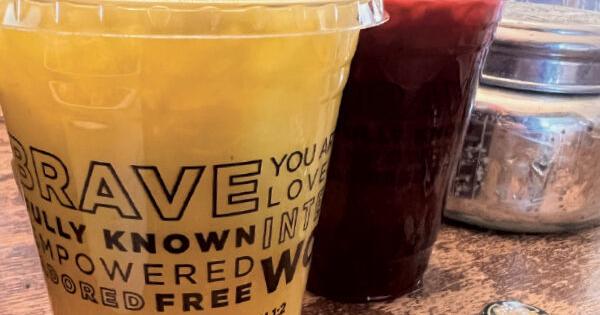 Our FT writers sample three juice franchises | Franchise News
The choices overwhelmed my senses as I entered the Loveland Mountain View location of Inta juice, a Colorado franchise with 11 units. Six screens displayed choices in different categories: Bowls, Power Up (protein), Berry Patch, Island Paradise, Pucker Up, Veggie Blends and Classic Favorites. As there was no one else in the store at 9am on a Saturday we took our time choosing and wished there were options that included coffee to keep us awake during the hours of driving that awaited us on our return trip to Minneapolis. We grabbed The Islander – a sweet concoction of guava, mango, peach and honey juice – and Paleo Strawberry Mango with coconut milk, ginger and honey, swapping the bananas for blueberries. Turns out the sweetness and texture probably took a hit from nixing the banana; the Paleo was bland and chunky compared to The Islander, which was perfectly slick. The ginger added an odd taste and a noticeable grainy texture that didn't seem to match the flavor profile.
The result : The 16-ounce smoothies for $5.25 seem like a pretty good deal, but the random tastes and textures, coupled with the squeaky styrofoam cups, take a bit of work to turn this little chain into a hit. -THIS
---
Focus Brands has embarked on an evolution of Jamba after acquiring it in 2018, first dropping "Juice" from its name, then expanding the menu with plant-based options and reduced sugar selections. Its classic menu remains, and the Orange Dream Machine was the favorite during a recent visit to one of the Minneapolis-area stores in Jamba. Rich in orange flavor, it's reminiscent of those Orange Flintstones Push-Up Pops. Among the new options is the Go Getter, a plant-based drink with matcha green tea, vegetables and fruit juice. What you see is what you get: it has a sweetness but the vegetable/plant flavor is obvious and may be better suited as a meal replacement than a snack. Also under the health umbrella is a peanut butter plus banana and whey protein option. The peanut butter flavor is punchy and with 42 grams of protein in a small package, it's a solid drink to take after a workout.
The result : Working on its perception as a lifestyle brand, Jamba straddles the line between snack and meal replacement, with options for both. Drinks were priced between $6.29 and $7.29, prices that reflect the more premium ingredients. —ML
---
I'm a huge fan of the juice craze – so many crazy concoctions and wild flavors to try. While some taste like the inside of a lawnmower, others are so surprising and delicious it makes my hair stand on end. clean juice is solidly among these. I have two juices for me and my wife, The Energy One and The Wakeup One. As you could see, the baby hadn't slept well the night before. The Wakeup One was a wonderful summer blend of ginger, lemon and orange. The Energy One, a fresh blend of beets, carrots, apples, celery, ginger and orange, was well balanced and tasted exceptionally fresh. But phew, at $11 each, it was as much as a quick and casual entrée. Cold-pressed juices are slightly more affordable at $7.95. Adding food, it was quite a ticket for lunch. The Nutty Bowl, an acai bowl with fresh fruit and granola, was $13.95 and the avocado toast was $7.95.
The result : Would I go back for the fancy juice? Maybe not, unless it's on the company card. But the cold pressed juice and that amazing avocado toast might create a loyal customer. -NAKED