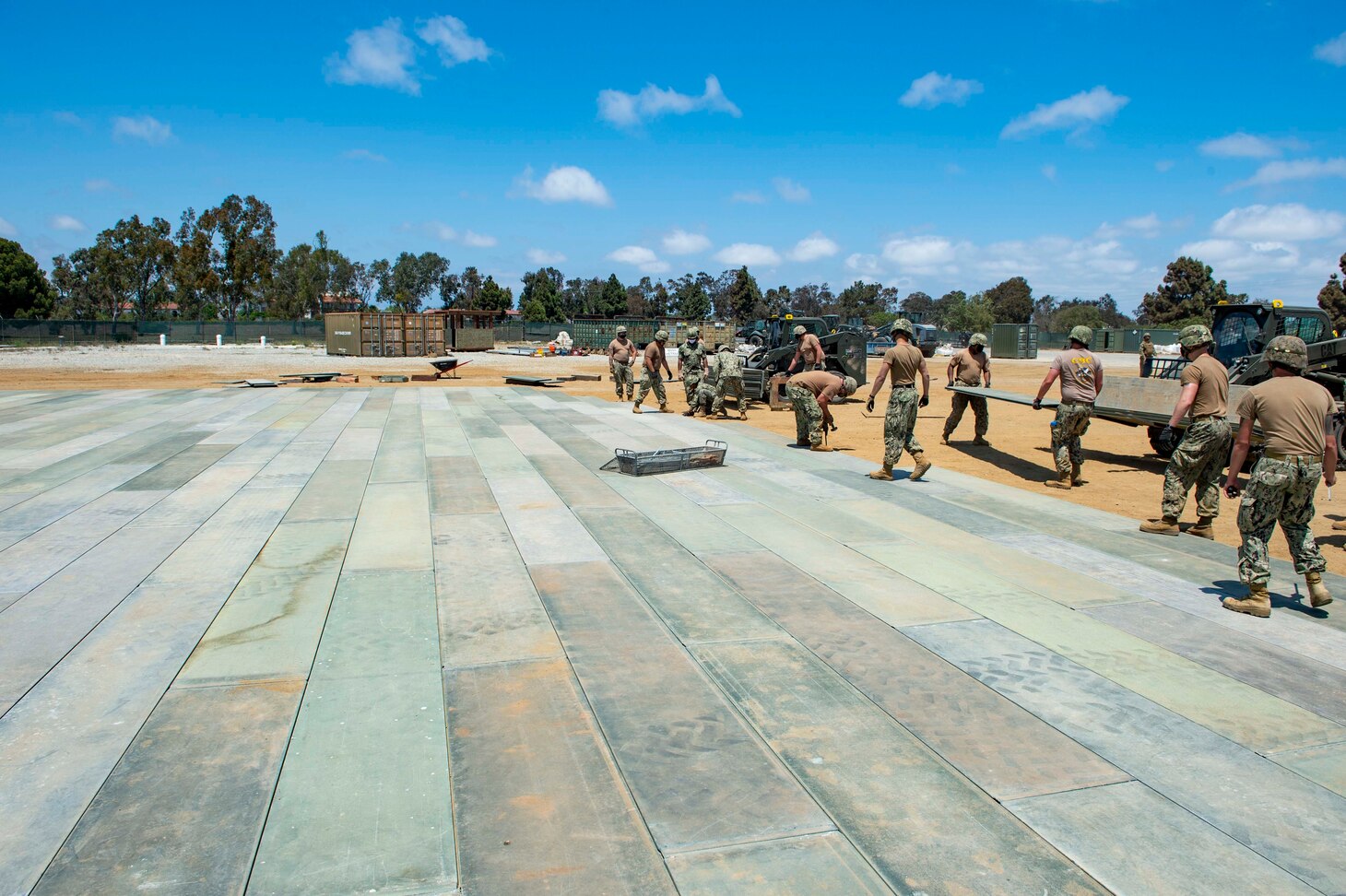 NMCB-3 complements the CPX-2 and 3> Seabee Magazine> News
United States Mobile Naval Construction Battalion (NMCB) 3 conducted two command post exercises (CPX) aboard Ventura County Naval Base, Port Hueneme, May 7-21.
CPX-2 and 3 continue a series of exercises that challenge battalion command and control (C2), communications, and timely decision-making capabilities through real-world, operations-centric scenarios combat operations (MCO) and humanitarian aid / disaster relief. The exercises lead to the battalion's final classified field training exercise called Operation Turning Point, which certifies the NMCB-3 as fit for deployment.
"CPXs power Operation Turning Point which helps ensure we are ready to perform tasks within our range of capabilities in our intended operating environment during deployment," said Lt. Oscar Solis, NMCB-3 training officer . "This can range from our general horizontal and vertical construction capabilities to specialized missions such as airfield damage repair (ADR), port damage repair and transition operations to support Navy and joint missions, which 'it's logistical support or MCO, for example. "
In the past, these exercises have required the battalion to set up a main site with a combat operations center and a tactical operations center and a separate stand-alone site for an air detachment of 89 people. However, when a Seabee Battalion deploys, it will be divided into an area of ​​responsibility with detachments to perform site specific tasks in order to meet the larger mission of the battalion.
The Seabees have started training more as they fight. The NMCB-3's CPX-1, intended to exercise watchkeeping basics and familiarity with immediate action exercises, required the battalion to establish a main site while simulating Distributed Command Task Elements (CTEs). The simulations ended there and the NMCB-3 moved on to CPX-2 and 3 with CTEs scattered across the base to exercise C2 on elements and perform tasks in a manner more consistent with how they will operate during Operation Turning Point where they will also face enemy aggressors and more complex scenarios.
"These exercises are very different from what we have seen in the past," Solis said. "Today we are focusing on more dispersed operations with smaller, lighter units capable of performing any of our required tasks. Exercising our communications is essential, but it also allows a lot of our decision-making to happen at lower levels, and that's something we really prepare our small unit leaders for.
Exercises test critical C2 skills throughout with an exercise control group that is responsible for applying stress to monitoring teams by injecting scenarios that may be encountered in real operations. Intelligence teams are expected to respond in a timely manner and in accordance with standard operating procedures. The exercises also required the Seabees to complete unit-level training construction tasks and unit-level training readiness assessments for specialized skills, including transition operations; ADR; and chemical, biological and radiological (CBR) defense.
The battalion's bridging capabilities were assessed during CPX-2 with the need to build a 60 ton heavy wooden bridge. Transition capabilities are a critical part of what makes an NMCB capable of rapidly providing force mobility and logistical support and Steelworker Chief Kent McCormick, assistant officer in charge of the NMCB-3 Bridge Detachment, said he had seen the training leading to the pay off exercise.
"We had unit-led training events before that which really put our bridge captains and crew at ease," said McCormick. "We practiced on various bridge configurations to focus on the technical capabilities and the safety aspect of it, but with this repeated hands-on experience, we also got speed and the ability for us to plan more easily. possible missions in the future. "
The ADR Detachment, a skill that dates back to the founding of the Seabees in WWII, was tested during CPX-3 on its ability to assess damage, determine minimum operating bands for specific aircraft, and repair aerodromes for continuous air operations.
"A lot of our team is new to this ability, but the battalion approached it by crawling, walking and running," said Equipment Operator 1st Class Russell Lizotte. "The constant intensification of training and exercises has increased our ability to work together and our efficiency with our equipment. For example, I saw our team get off to a rocky start in our first few practices, but then saw them improve and gradually accelerate until we finally cut our completion time by around 50%. compared to our initial tests. "
The ability of the CBR team to rally to a convoy that was attacked with a simulated CBR agent to perform tests to determine a safe location for decontamination was also assessed during CPX-3. Once affected personnel and equipment were moved, the team was responsible for decontaminating vehicles and personnel as well as delineating the contaminated area.
The exercises were successful in building muscle memory within surveillance teams and specialist organizations and identified strengths and areas for improvement in order for the battalion to focus on the future. The NMCB-3 will use this experience to imagine solutions for their next CPX-4 and Operation Turning Point and will once again become the "Ready Battalion" of the Pacific Fleet.
NMCB-3 is brought home to Port Hueneme, California. Seabees are the naval service's expeditionary engineering and construction experts. They provide task-responsive, adaptable, combat-ready engineering and construction forces that deploy to support Navy objectives around the world.