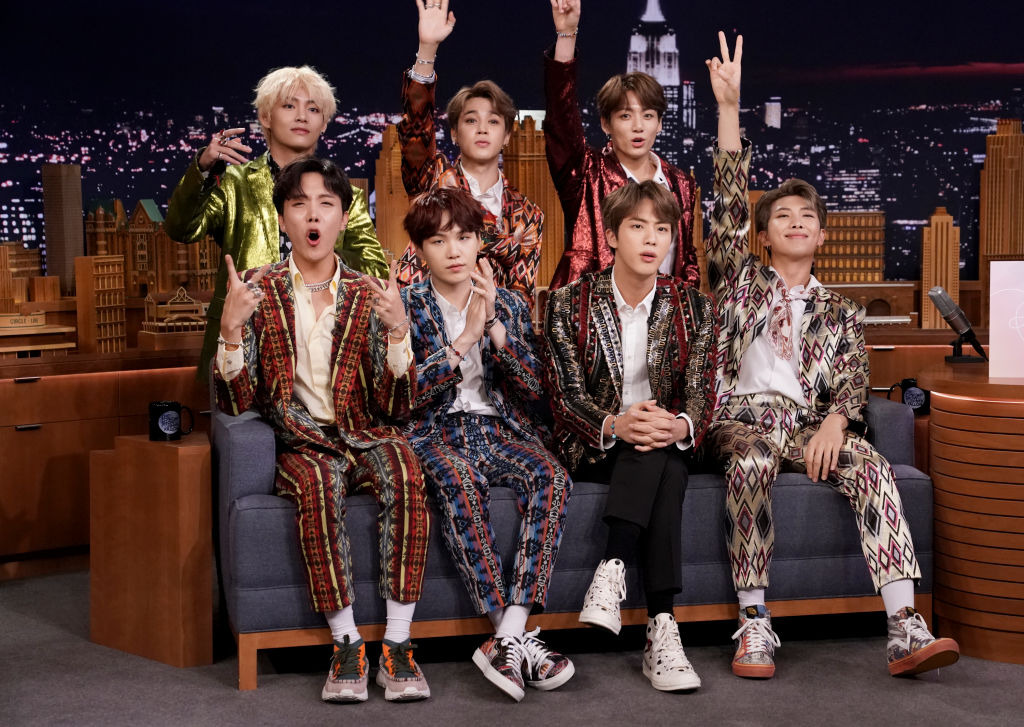 BTS subverts the norm again with their paper magazine cover
BTS are known for breaking down barriers. Whether it's through music, fashion, or TV shows, BTS members connect with people all over the world. Their words and actions inspire people to be themselves and the group often subverts the norms of music and fashion. In their new cover and article with Paper Magazine, BTS has once again turned the tide.
BTS' article with Paper Magazine is a collaboration
For the Paper Magazine article, BTS collaborated with Lisa Frank and Louis Vuitton. Lisa Frank is a businesswoman known for her colorful designs for school-aged children. In an editor's note, Paper Magazine explained how the collaborations fit with BTS's message.
"For PAPER's Break the Internet 2019 moment, we've combined three cultural powerhouses: BTS, our cover stars; Lisa Frank, who created custom illustrations; and Virgil Abloh, whose spring 2020 collection for Louis Vuitton Homme appears on the band. BTS is the biggest music group on the planet and from the beginning they have stood for youth empowerment," bed editor's note.
Note keep on going, "PAPER is particularly inspired by his campaign and speech at the UN last year, RM, when RM urged young people: No matter who you are, where you are from, your skin color, your gender: just speak yourself. Find your name and find your voice. For decades, iconic American artist Lisa Frank has also empowered young people to express themselves freely and think creatively. His art is the ultimate symbol of "Love Yourself".
BTS shatters the idea of ​​toxic masculinity
The editor's note explains how Louis Vuitton fits into BTS's "Love Yourself" campaign.
"Finally, there is simply no one better at connecting with younger generations and breaking down fashion barriers than Virgil Abloh, Creative Director of Men's Fashion at Louis Vuitton and Founder and Creative Director of Off-White. Separately their contributions to pop culture are huge, together they are breaking the internet," the statement read. concludes.
In the article, each BTS member posed in individual and group photos while wearing Louis Vuitton. Background images were designed by Frank. Images from the article's photoshoot embraced Frank's bright colors and smiling animals.
The photos take things BTS has been criticized for, like femininity and female appeal, and promote them even further. In doing so, BTS confronts gender norms and the idea of ​​toxic masculinity.
BTS embraces its fans with the cover of Paper Magazine
When it comes to entertainment, people look down on art forms enjoyed by women. Boy bands historically have female-led fanbases. For this reason, men and the general public write off groups. The opinions of young people are also often discredited because of their age.
BTS's article with Paper Magazine reinforces the ideals BTS preaches, empowering young people and speaking their truth. The cover of BTS's Paper magazine sends a clear message that BTS doesn't need validation from those outside of its fan base. Article references BTS fandom, ARMY, as "one of the most passionate and engaged music fanbases in the world."
"It's an honor that people around the world love our music and messages. It seems there is no language barrier," BTS said of their fans. "We think ARMY has helped us spread our music around the world. None of this would have been possible without ARMY.
Combined with the youthful designs in their photos, BTS alludes to the fact that everything they've achieved is due to a young, female-led fanbase. At a time when people discredit the opinions of women and young people, this recognition of BTS is monumental. The article and photos send a clear statement that BTS and their fans have broken an entertainment industry standard of fandom.