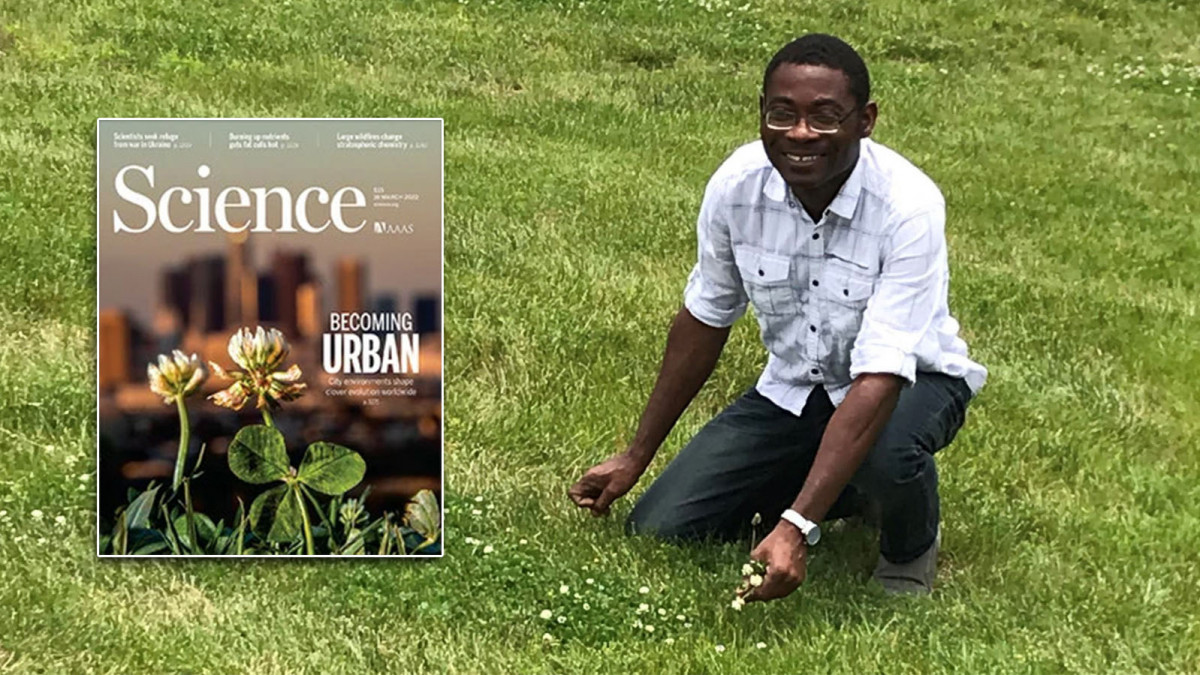 Bio prof co-authors Science magazine cover article
A DePauw University biology professor co-authored the cover story for last week's issue of Science, a leading publication on scientific discovery.
Philips Akinwole, assistant professor of biology and microbial ecologist, was among 278 scientists who collected 110,019 white clover samples from 6,169 populations in 160 cities around the world, analyzed them, and wrote about the results for "Global Urban Environmental Change Drives White Clover Adaptation», the cover story of the March 18 issue (subscription required).
Akinwole enlisted the help of seven DePauw students to support his work.
"Being published in Science magazine is a tremendous achievement that only a few scientists achieve in their careers," said Professor Henning Schneider, head of the biology department.
Prior to coming to DePauw, Akinwole was involved in the Global Urban Evolution Project through collaborators at the University of Toronto in Mississauga and collected clover samples in Sioux Falls, South Dakota.
When he started working at DePauw in the fall of 2018 as a postdoctoral student — he became an assistant professor last year — he enlisted five biology students, over two semesters and one summer, to help him to collect samples from 10 Midwestern cities, including Indianapolis, and give students "hands-on, impactful research experience," he said. Two other students then worked in the laboratory on frozen samples.
Two of the students – Seika Shiba '21 and Yangjie Tan '22 – won an award for presenting the project at the Sigma Xi conference in 2019.
Akinwole and his counterparts around the world measured the amount of hydrogen cyanide white clover in urban areas created as a natural defense against herbivorous animals compared to white clover found in rural areas. The results demonstrated "that urbanization leads to adaptation on a global scale," the article states.
"Our findings have broad implications for understanding how environmental change affects the adaptation of widespread species. … Urbanization is increasingly transforming rural and natural environments into unique ecosystems that Earth's biodiversity has never known, and these changes alter the evolution of life.If adaptation to urban environments is common, this could have cascading effects on populations and ecosystems.
Such knowledge, the paper continues, could help conserve some of Earth's most vulnerable species, mitigate pest impacts, improve human well-being, and contribute to understanding fundamental eco-evolutionary processes.
"It's a big deal," said Akinwole colleague Dana Dudle, Winona H. Welch professor of biology and associate chair of the biology department. "Science is one of the best scientific journals in the world, and thousands and thousands of people will see this work."
Science magazine, founded in 1880 with start-up funds from Thomas Edison, publishes research and is one of a family of journals published by the American Association for the Advancement of Science.