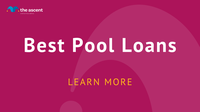 The average cost to install an in-ground pool ranges from $38,719 to $69,599. The national average for an in-ground pool is $51,833. A swimming pool will cost from $50 to $125 per square foot. Adding a pool house can increase the cost of a swimming pool to $300 or more per square foot. The cost of a swimming pool depends on the type of material, size, shape, design, landscaping, lighting, materials, labor and any work on measure.
The large pools are approximately 18 feet by 36 feet with a deep end ranging from 9 to 12 feet. The deeper the pool, the more expensive it is. The starting price for a large pool is around $35,000. Small pools are about 10 feet by 20 feet with a deep end ranging from 5.5 to 7 feet. Prices for small pools range from $10,000 to $25,000 and up.
There are annual costs to maintain a swimming pool. This can include electrical systems, plumbing and pumps. Costs increase if you have a deck and a security fence. Additional pool costs can be permits, property taxes and additional utility costs. Building permits for a swimming pool generally cost between $450 and $1,800 per permit. It is important to consider annual maintenance fees and taxes when installing a pool. Another important consideration is based on materials: after 7-10 years, parts of the pool may need to be replaced or repaired. A swimming pool can be an expensive upgrade.