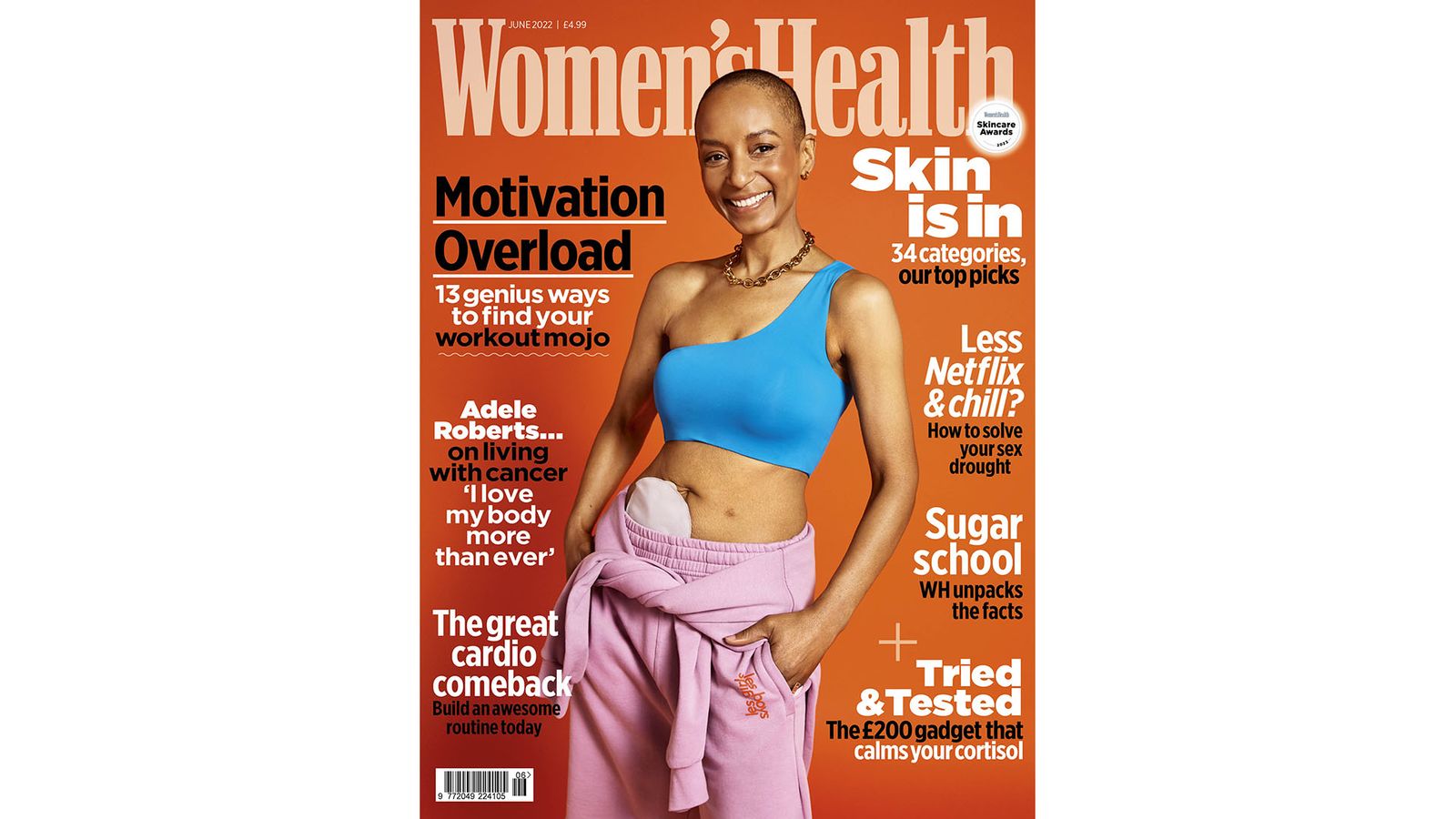 Adele Roberts appears on the cover of a women's magazine with a visible ostomy bag as she reflects on the diagnosis of cancer | UK News
Radio 1 DJ Adele Roberts said 'being diagnosed with cancer means I have learned to appreciate my body' as she appeared on the cover of a magazine with a visible ostomy bag.
The presenter, who revealed in October that she was being treated for bowel cancerspoke about staying mentally strong throughout her treatment during a photoshoot with Women's Health UK.
The 43-year-old, who first rose to prominence on the Channel 4 series Big Brother in 2002, had a tumor removed by surgery.
She now uses an ostomy bag, which attaches to her abdomen and collects her feces, and has also undergone chemotherapy.
Roberts said: "Being diagnosed with cancer means I learned to appreciate my body; to be grateful that it works; to be grateful that I found the tumor in time to remove it and to be grateful (that modern medicine means I can) have a stoma.
"I feel like I love my body more than ever.
"One in two people will be diagnosed with cancer at some point in their life and I think the more we can talk about it, the less people will be negatively affected mentally, if and when it happens.
"That's why it means so much – as someone undergoing cancer treatment and with a visible stoma – to be on the cover of Women's Health."
Roberts admitted she spent a lot of time feeling 'shattered' by her diagnosis and added: 'When I was in the hospital, recovering from my operations, I would overhear the conversations of other women in the ward and I learned that they had a much worse diagnosis than me – possibly terminal cancer – and that's where I felt depressed.
"I think my strategy, so that I can stay stable while I'm on chemotherapy, is just to keep going and try not to let myself be beaten mentally.
"Like, I kind of have to tackle it head-on, because that's how I handle things, but I understand that everyone is different."
Roberts, who is bisexual and an LGBT rights activist, also recalled meeting her partner Kate for the first time.
She said: "I remember seeing her and thinking she was beautiful, but I didn't know she was gay, and then she mentioned she was going on a date with a woman. and that's it, she couldn't get rid of me!"